Here's is my list of some of the countless gifts God gives me each day:
Thank you, my Lord, for
1. Bedtime, especially after a long day
2. A wonderful husband who I admire and love more and more each day
3. Sr. Josita, who's wisdom and compassion is beyond compare
4. Vanilla yogurt with grape-nuts (why didn't anyone tell me?)
5. Children and my choice to have them
6. My rosary with its missing bead. I admire broken things
7. The stars
8. Knitting
9. Knowing how close Jesus is to me
10. Comforting Psalms (Psalm 62 is my favorite)
11. Prayer with my girls at bedtime
12. Finishing a really good book
13. Surprise and not-so-surprise visitors
14. my blog
15. Waking up every morning
16. Marriage Encounters!!!
My list will continue from here, but it is amazing how I didn't have to stop and think of what I am so thankful for. I'm thankful for this very breath I am taking right now. Amen!
Start the movement, and your very own list: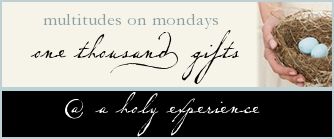 You don't have to stop at 1000!
God bless!